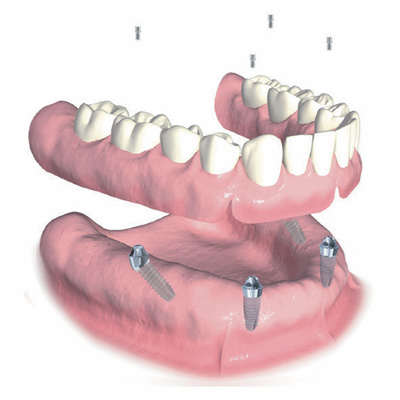 Implant-supported dentures are connected to metal posts in your mouth, which preclude the need for messy, sticky adhesives. Many patients who desire dentures prefer the implant-supported version for this reason. They also stay firmly in place, and you don't have to worry about your dentures slipping or sliding around as you're talking or eating. Your dentist in Akron, OH, has more information on implant-supported dentures.
Are Implant-Supported Dentures Removable?
This type of denture can be removable if you opt for the snap-on version. Like the name proclaims, you can snap these dentures on and off the steel posts as needed for cleaning or sleeping. Permanent implant-supported dentures are not removable, however. They're permanently affixed inside your mouth, just like your natural set of teeth.
Why choose one over the other? In reality, it may be your dentist who recommends removable dentures. If you lack sufficient bone mass for permanent dentures, or if you can't afford them, then removable dentures are a great second option.
What Are the Benefits of Implant-Supported Dentures?
The biggest benefit to any type of denture is that it restores tooth function and the appearance of your smile. Regarding implant-supported dentures, there is less muss and fuss involved. There's no need to buy pricey adhesive to keep them in place, no getting adhesive all over your hands and the inside of your mouth as you situate your dentures, and no worry that they'll shift position in the middle of an important conversation. When you smile, they'll look just like natural teeth, and you'll be able to bite and chew your favorite foods with ease.
Implant-Supported Dentures in Akron, OH
If you're interested in learning more about implant-supported dentures in Akron, OH, contact Marino Dental on Darrow, today. At Marino Dental on Darrow, we're experts in helping you choose the smile solution that best fits your lifestyle. Our friendly clinicians are always happy to sit down with you to present options and to discuss your oral-health treatment, and we'll make sure you have a full understanding of the follow-up care that's necessary for success. Call today to schedule a consultation and routine dental exam.
https://drmarinoassociates.com/wp-content/uploads/2023/02/image3400.jpg
400
400
Marino Dental on Darrow
https://drmarinoassociates.com/wp-content/uploads/2023/01/marino-darrow-logo-300x165.png
Marino Dental on Darrow
2023-09-21 00:31:52
2023-09-21 00:31:52
What Are Implant-Supported Dentures?