Dental Implants (Place and Restore)
---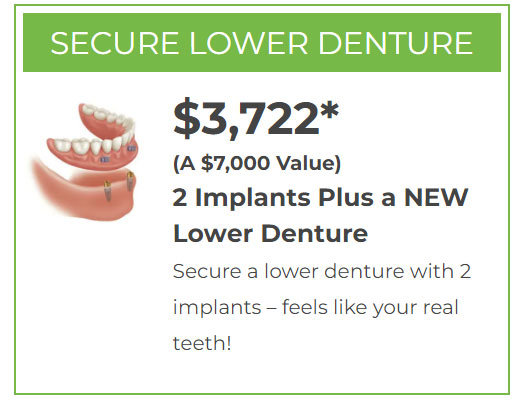 Dental Implants are a smart, sound investment for replacing worn-out or broken teeth that must be removed. You can use dental implants in place of your adult teeth to restore your smile and oral health. If you or someone you love is suffering from adverse effects related to tooth loss, opt for Marino Dental on Darrow. We offer comprehensive dental implant placement and restoration treatments all under one roof in Akron, Ohio.
What are Dental Implants?
Dental Implants have become one of the greatest advancements in dentistry to permanently replace missing or broken teeth in a way that no previous dental technique was able to accomplish.
Made of the strongest titanium material, an implant is placed in the bone and covered with a crown, bridge, denture or used to restore the entire arch! Dental implants look, feel and function like real teeth. You'll be able to eat your favorite foods, talk with comfort, and smile with confidence again.
Studies have reported that the long-term success rate of implants is over 95%. When properly cared for, dental implants can last a lifetime, making them one of the best investments for long-term tooth replacement. Additionally, since dental implants increase the health of your mouth, they subsequently improve your overall health and life expectancy.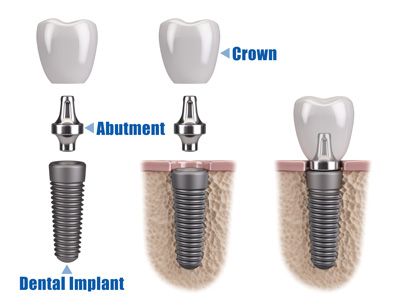 _____________________
Am I a candidate for a dental implant?
The first step in deciding whether implants are a good option for you is to schedule a complimentary implant consultation with one of our trained dentists in the placement and restoration of dental implants. Candidates need healthy gums and bone tissue for dental implants to be secured to the jawbone. Our award-winning dentists can verify that you have no health conditions that would limit your ability to receive the implants. The majority of people are candidates for dental implants.
Our general dentists and oral surgeons have had specialized training in the placement and restoration of implants. Your initial assessment will include a full dental exam, including documentation of your medical and dental histories, X-rays and perhaps a CT scan to ensure that there is adequate bone density, as well as an evaluation of the shape of your jaw.
If you don't have enough gum tissue in your mouth, the dentist may recommend dental bone grafts to strengthen the area where the implant will be placed. The entire procedure is virtually painless and sedation may be a viable option for you to consider.
It is always preferable to have healthy dental bone and gum tissue before performing the dental implant procedure. If you use tobacco, you will probably be asked to quit before receiving the implant. Tobacco users are not usually considered good candidates for dental implants because their bone and gum tissue tends to be weaker than non-smokers.
Generally, if you can answer yes to the following questions, you are a good dental implant candidate:
Are you in overall good health?
Will you take care of your implanted teeth and general dental health on a daily
basis?
Can you maintain a schedule of regular dental check-ups?
If you have insurance, it may cover your dental implants. Check with your policy before proceeding or ask our trained staff to investigate for you. Many Medicare Plans are now covering dental implants. Ask to speak with one of our Medicare Specialists to learn more. We also offer CareCredit financing. Implants can be a comfortable, natural way to get your beautiful smile back and keep it for years to come.
* exclusions apply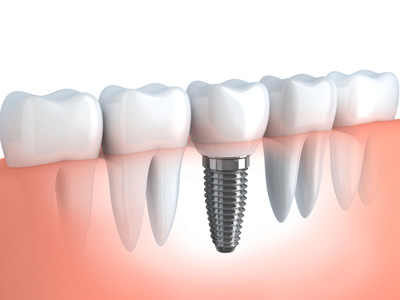 Single Tooth Dental Implant
Tooth loss occurs for many reasons, such as through accident or disease. Fortunately, restoring your smile is possible, though not all options are equal. Conventional solutions, like bridges or removable partial dentures, risk damaging the healthy adjacent teeth and are temporary fixes at best. The dental implant, however, integrates and bonds completely with the jawbone without damaging other teeth. Comparable to a tree that receives its stability from its roots, the implant becomes the perfect supporting element for your new dental crown. The dental implant also stimulates and preserves the bone that can recede when a tooth is missing from the jawbone. Furthermore, an implant also relieves the strain on the other teeth since it can easily be stressed like a natural tooth due to its firm anchoring.

Implant Retained Dentures
Conventional dentures have been the standard tooth replacement option for centuries. Many inconveniences and issues come along with this choice. There may be discomfort and the possibility of the denture coming loose while speaking or eating. Additionally, you may be restricted with the foods you can eat which can lead to poor nutrition. With an implant-retained denture, many of these issues are eliminated. The implants integrate with the jaw and support the abutments that act as anchors to hold the denture firmly in place. With dental implants, there's no need to remove them to reapply adhesives during the day. Gain confidence in smiling, eating, and talking again with dental implants that can help support an upper or a lower denture. Implant-retained dentures are the next best thing to your real teeth.

Full Mouth Restoration with Dental Implants
This type of treatment involves removing "all" of the teeth in either the upper or the lower jaw and placing 4, 5, or sometimes 6 dental implants. This is a permanent appliance that is not removable. The primary appointment is a surgical procedure followed by a restorative phase. At the end of this appointment, the patient goes home with a full arch of teeth made using a 3D image made from a CT Scan. The new teeth attach to the newly placed implants. These precisely placed implants act as anchors to a custom-made prosthetic denture. The implants secure the denture firmly to the jaw, allowing you to eat a variety of foods, look natural, and feel confident in your daily life! This procedure is ideal for the total rehabilitation of a patient missing all of their teeth, badly broken down teeth, decayed teeth, or teeth with gum disease. This treatment is meant to be a permanent dental solution. Your implants can last 20 years or more with proper care. The long-term success rate after 10 years is more than 94 percent, according to some scientific studies.
Sinus Lift

When teeth are removed in the upper jaw, bone can be lost over time. This decreases the amount of bone available to properly support an implant. Fortunately, a sinus lift procedure can be performed to increase the amount of bone in the upper jaw. By delicately lifting the membrane of the sinus, the dentist can place a bone graft material to restore the lost bone and build enough volume to support an implant. During the healing process, the graft material acts as a scaffold to be replaced by your own new
bone. Techniques and materials for this procedure have proven to make the sinus lift one of the most successful and predictable bone grafting procedures in the mouth. For years the grafted bone had to be taken from another part of the patient's body or jaw. Today, bone grafting material can be used in place of your own bone making the procedure less invasive to the patient.
Planmeca 3D Cone Beam Xray Unit
Our office has access to a CBCT scanner for capturing amazingly accurate 3D images of both jaws and their surrounding structures.  Not all patients require this type of imaging but if one of our dentists requests this type of scan it is very safe, easy, and quick.  You will stand up while the machine camera moves around you to take several pictures just like a scan taken in the hospital of other parts of your body.

Get a Complimentary Dental Implant Consultation
Let our Award Winning Dentists and Oral Surgeons assist you with eating easier and smiling better with confidence again. A dental consultation for implants is the first step in the right direction. Contact Marino Dental on Darrow in Akron, OH at 330-784-7285 for an appointment. We look forward to serving your dental needs with affordable and beneficial dental implant placement and restoration all under one roof
Dental Implants Can Be Affordable
Dental implants may be a covered procedure if you have dental insurance.  Our highly trained staff will be able to answer all of your questions about your coverage.  Some Medicare Plans  (https://seniorbenefitadvantage.com/ ) can also have benefits that will pay for dental implants. Additionally, we accept CareCredit (https://www.carecredit.com/ ) At your complimentary implant consultation with one of our award-winning dentists at Marino Dental on Darrow we will help you feel confident in knowing you and your family are in good hands at our office.