Crowns and Bridge
---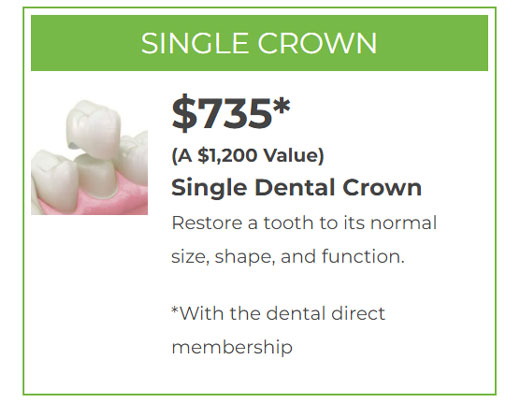 Crowns and bridges are two common types of dental restorations that can be used to repair or replace damaged or missing teeth. At Marino Dental on Darrow, we offer a variety of crowns and bridges services in Akron, Ohio to help our patients restore their smiles and improve their oral health.
Crowns
A crown, also known as a cap, is a dental restoration that covers the entire tooth and is used to restore a damaged or decayed tooth. Crowns can also be used to improve the appearance of a tooth that is discolored or misshapen. Crowns can be made of a variety of materials, including porcelain, metal, or a combination of both, which is porcelain fused to metal.
Bridges
A bridge is a dental restoration that spans the space left by a missing tooth and is used to take the place of a missing tooth or teeth. They are anchored to the abutting natural teeth or to dental implants. Bridges are commonly made of durable ceramic or porcelain to match the appearance of your natural teeth.
Implant-Supported Crowns and Bridges
Implant-supported crowns and bridges are a popular option for patients who are missing one or more teeth. Dental implants are placed into the jawbone and act as anchors for the crown or bridge. This option is more invasive than traditional bridges, but it is also more stable and can last longer.
CEREC Technology
In addition to traditional crowns and bridges, we also offer CEREC technology, which allows us to create, design and place a custom-made all ceramic restoration in one single visit, eliminating the need for temporary crowns and multiple appointments.
Crown and Bridge Procedure
The process of getting a crown or bridge typically involves a few appointments.
First, the dentist will examine the tooth or teeth and take x-rays to determine the best course of treatment. If a tooth is decayed or damaged, it will need to be treated before the crown or bridge can be placed into position.
Next, your dentist will prepare the tooth or teeth by removing any decay or damage, and shaping the tooth to make room for the crown or bridge. Impressions of the prepared tooth or teeth will be taken and sent to a dental laboratory where the crown or bridge will be made. A temporary crown or bridge will be placed to protect the prepared tooth or teeth while the permanent restoration is being made.
When the permanent crown or bridge is ready, you'll return for a second appointment to have it put into place. The dentist will remove the temporary restoration and place the permanent crown or bridge. The tooth or teeth will be adjusted and polished to ensure a proper fit and bite.
Whether you need a single crown, a bridge or implant-supported crowns and bridges, Marino Dental on Darrow in Akron, Ohio can help. We use the latest techniques and materials to ensure that your crowns and bridges look natural and feel comfortable. Our team will work with you to determine the best option for your specific needs, and we will guide you through the entire process to ensure a smooth and successful outcome. Contact us today to learn more about restoring your smile with crowns or bridges.