Teeth Whitening
---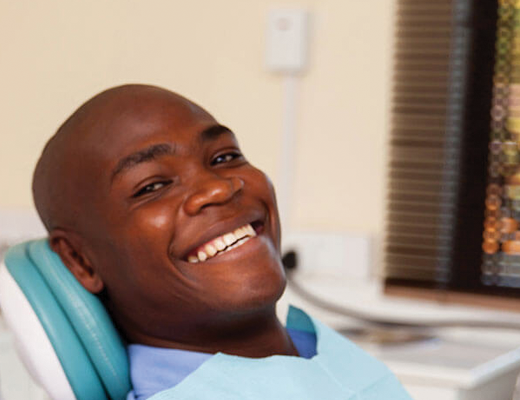 A bright and white smile can do wonders for your self-confidence, but over time, our teeth can become discolored and stained due to various factors, such as drinking coffee, tea, or wine, smoking, and the natural aging process. Teeth whitening is a popular cosmetic dental procedure that can help restore your teeth's natural whiteness. This page will look at what you can expect during your tooth whitening appointment.
The professional team at Marino Dental on Darrow of Akron, OH, is proud to serve the local community with access to premium dental services, including whitening tomorrow's smiles.
What is Teeth Whitening?
Teeth whitening is a cosmetic dental procedure that uses bleaching agents to remove stains and discolorations from the surface of the teeth. The procedure can be done in-office by a dentist or at home using a take-home kit provided by a dentist. Teeth whitening can help improve your smile's appearance and boost your self-confidence.
What Can I Expect During my Teeth Whitening Appointment?
The team at Marino Dental on Darrow of Akron, OH, has extensive experience in offering numerous dental solutions for all patients and wants you to be as informed as possible. Below you will find the step-by-step process of what you can expect from a teeth-whitening appointment.
Consultation
Your dentist will examine your teeth and gums to determine if you are a good candidate for tooth whitening. They will also take the time to discuss your goals for the procedure and explain the different teeth whitening options available. While it is often considered standard, in-office solutions aren't the only professional services available. Take-home whitening kits, for example, are much better quality than any other over-the-counter solution. Of course, consulting your professional before undertaking any solution is always best.
Preparation
Before the actual teeth whitening procedure, your dentist will prepare your teeth by cleaning them thoroughly. They will also place a protective barrier on your gums to protect them from the bleaching solution. The solution is not dangerous to the rest of your body. Still, the dentist or assistant will always take the time and carefully provide you with substantial defense against any splatter or light.
Whitening
The teeth whitening procedure will take place after your teeth have been prepared. The dentist will apply a bleaching solution to your teeth. The procedure usually takes about an hour to complete, and in some cases, multiple visits may be necessary to achieve the desired level of whitening. Of course, the first session will always be the most effective, with up to 8 shades whiter after 24 hours if appropriate aftercare instructions are followed.
Your Local Quality Oral Care Team
Yellow and stained teeth shouldn't have to hold back your daily life any longer. Take control of your confidence and smile through professional tooth-whitening services from a trusted team. While many solutions are marketed on different media channels, speaking with a proficient team is always the best approach. During your appointment with the skilled team at Marino Dental on Darrow of Akron, OH, you can be sure you are receiving the proper care and guidance that your unique situation deserves.