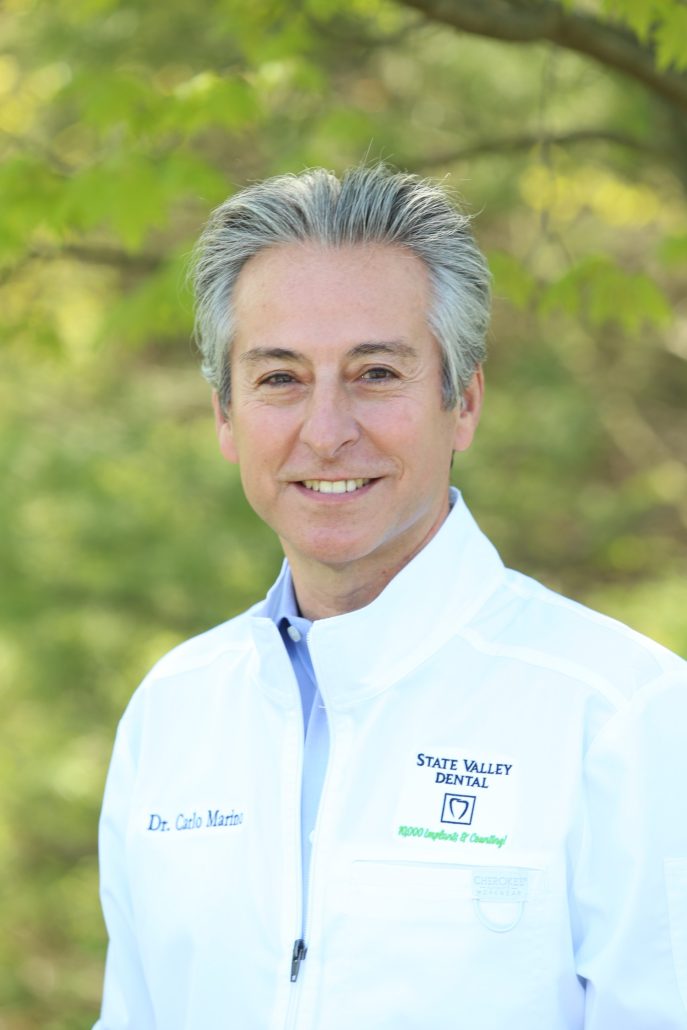 Carlo Marino, DDS
President, Marino Dental on Darrow
Born and raised in Cleveland, Ohio, Carlo Marino, DDS began his undergraduate studies at the University of Toledo. In 1990, at The Ohio State University, he earned his DDS degree and met his future wife Angela, also a dentist. Following dental school, he completed his general practice residency at the Medical College of Ohio. Dr. Marino has proudly been recognized 6 years in a row as the #1 Dentist, Most Innovative Workplace, and Person of the Year Finalist for 2022 by readers of the Akron Beacon Journal Best of the Best. As the owner of Marino Dental on Darrow for nearly 30 years, he feels everyone has the right to quality dental care. He has devoted his career to extensive advanced continuing education in dental implant placement & restoration for over 20 years and along with his providers has placed 10,000 dental implants. Additionally, Dr. Marino is a member of the Thommen Medical Lecture Team and Advisory Board, a world leader in implant fabrication using Swiss technology.
Dr. Marino and our board-certified oral surgeons offer procedures that replace "all" of the teeth in either the upper or the lower jaw using 4, 5, or sometimes 6 dental implants.  Dr. Marino exclusively uses Chrome technology with Roe Dental Lab, a leader in implant lab technology.  He takes pride in ensuring all of his affiliated locations have a stellar staff and practitioners to provide the same level of care he deems necessary to serve surrounding communities properly. All office locations are state of the art with digital radiography, Cone Beam Scanners, and complete OSHA & HIPAA compliance.
Additional affiliations include The Ohio State University President's Club for Philanthropic Leadership, American Dental Association, the Ohio Dental Association, and the Akron Dental Association.
In his free time, Dr. Carlo Marino enjoys spending time with his wife and three sons, Michael, Steven, and Anthony.  Dr. Michael, also a graduate of the Ohio State University College of Dentistry, joined the practice in 2023 after finishing his General Practice Residency at Loyola University Medical Center Chicago. Favorite pastimes include saltwater fishing, boating, restoring classic cars, and traveling.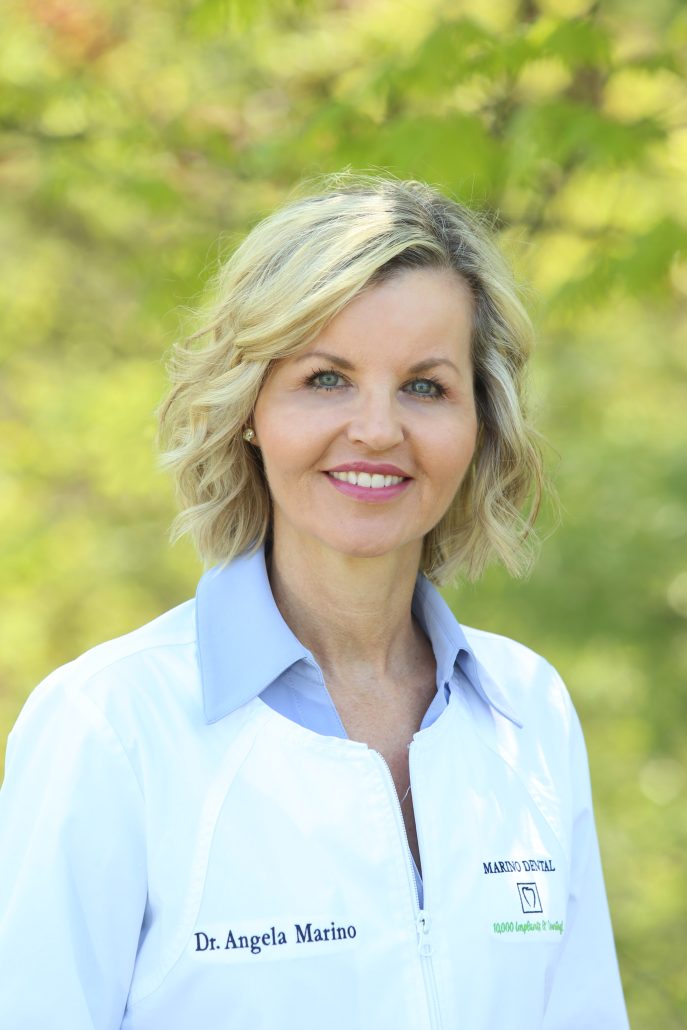 Angela Marino, DDS
COO, Marino Dental on Darrow
Dr. Angela Marino is a general dentist practicing in the Greater Cleveland-Akron area since 1991. For the past 5 years, she has been honored to be selected by her peers as a TopDentist in Cleveland Magazine and in Akron Life Magazine. Her education began at Capital University in Columbus, OH, where she graduated Summa Cum Laude and was admitted into the Phi Beta Kappa Honor Society. She earned her dental degree at The Ohio State University College of Dentistry, where she met her future husband Carlo. After completing her General Practice Residency at MetroHealth Medical Center, a level 1 trauma center, Angela Marino, DDS began her private practice career.
Since 2015 Angela Marino has been continuing to receive comprehensive advanced training in BOTOX, Dermal Fillers, PDO Threads, Sculptra, lip augmentation & PRP Aesthetics at DentaSpa in Miami, FL. DentaSpa is the world's leader in BOTOX® and dermal filler education exclusively for dental practitioners. She is passionate about offering patients the benefits of injectables to create a dramatic result that can be completed in one visit. Procedures are painless, affordable, and have no downtime.
Additionally, Angela Marino, DDS carries SkinMedica, a medical-grade facial product line, at all locations to maintain results with these amazing take-home products.
Additional affiliations include the International Academy of Facial Aesthetics, The Ohio State University President's Club for Philanthropic Leadership, the American Association of Women Dentists, and The Ohio State University Dental Alumni Society.
Dr. Marino is passionate about her involvement with Fill This House, a nonprofit organization that provides starter household items for local Cleveland teens aging out of foster care. Dr. Marino ensures that State Valley Dental holds its annual collection drive every holiday season to spread the word about this amazing organization. Additional pastimes include swimming, yoga, various cooking classes, and traveling with her 3 boys and husband.
Tara Bawel, DDS
Dr. Tara Bawel was born and raised as an Indiana Hoosier. She attended Indiana University where she graduated with a Bachelor of Science in Biology. She then earned her Doctor of Dental Surgery from Indiana University School of Dentistry. She has a passion for equitable dental care and has served in multiple leadership roles in Give Kids A Smile and the Global Studies Program at Indiana University. She has presented at the American Dental Education Association (ADEA). Additionally, she has dedicated time to medical mission trips and pediatric oral health education. In her spare time she likes to travel, run, practice yoga, cook, and spend time with her friends and family.
Steven Barket, DMD
Dr. Steven Barket, DMD, was born and raised in Pennsylvania, receiving his BS in Biology at Wilkes University, and earned his Doctorate of Dental Medicine at the University of Pittsburgh in 2011. Dr. Barket furthered his Dental education by completing a residency at the University of Pittsburgh Medical Center / University of Pittsburgh Dental School which included advanced training in Oral Medicine. In addition to having previously been appointed faculty at Case Western School of Dental Medicine, he has been published in the Journal of the American Dental Association and research interests include the clinical features of various intraoral conditions, and topics relating to oral health disparity.
Steve enjoys answering all his patient's questions thoroughly, so they feel comfortable in the dental chair. He moved to Northeast Ohio in 2018 and enjoys raising his family here. In his spare time, he likes to explore the area Metroparks, exercising, and rooting for Pittsburgh Hockey.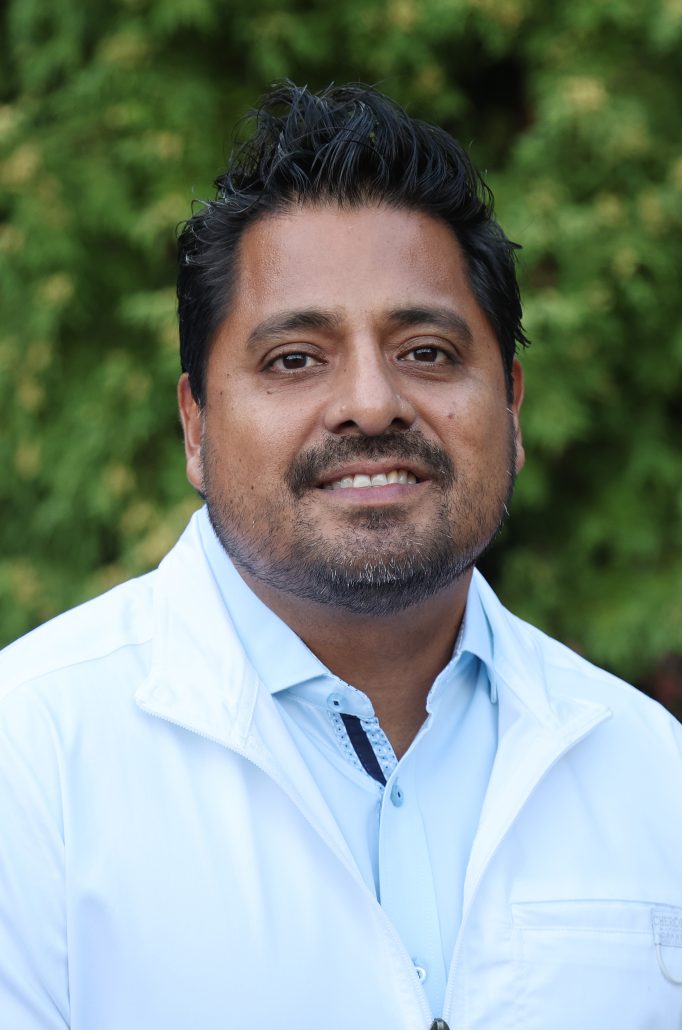 Alan Y. Martinez, DDS
As a dedicated student in Honduras, Dr. Alan Martinez completed his lengthy undergraduate studies and advanced to receive his Doctor of Dental Surgery Degree. In 2005 Dr. Martinez completed his residency in Oral and Maxillofacial Surgery with Honors in Perú. By 2006, he relocated to New York to accept an invitation to the prestigious Postdoctoral Program at the Eastman Institute of Oral Health at the University of Rochester. He then moved to Northeast Ohio with his family. In 2014, he underwent Fellowship training in Maxillofacial and Orthognathic Surgery at the Center for Dentofacial Deformities and Corrective Jaw Surgery in New York, NY. Dr. Martinez is a proud Diplomate of the American Board of Oral and Maxillofacial Surgery. In addition, he has been a professor and an author of numerous publications in prestigious scientific journals with many research affiliations.
As a member of the team at Marino Dental on Darrow, Dr. Martinez brings a level of care, understanding and expertise to increase the specialty services available to expand treatment options to our patients.  His role has been pivotal in providing Full Mouth Restoration with dental implants at our practice.  With this highly technical and advanced treatment, patients can have all of their teeth removed and 4 to 6 implants placed in one arch that artificial teeth permanently attach to, all in one day. This cutting edge treatment allows a patient to have a fixed appliance that restores their ability to speak and eat which restores their function and confidence.
In his spare time Dr. Martinez enjoys spending time with his 2 children, traveling, running, golf and practicing martial arts.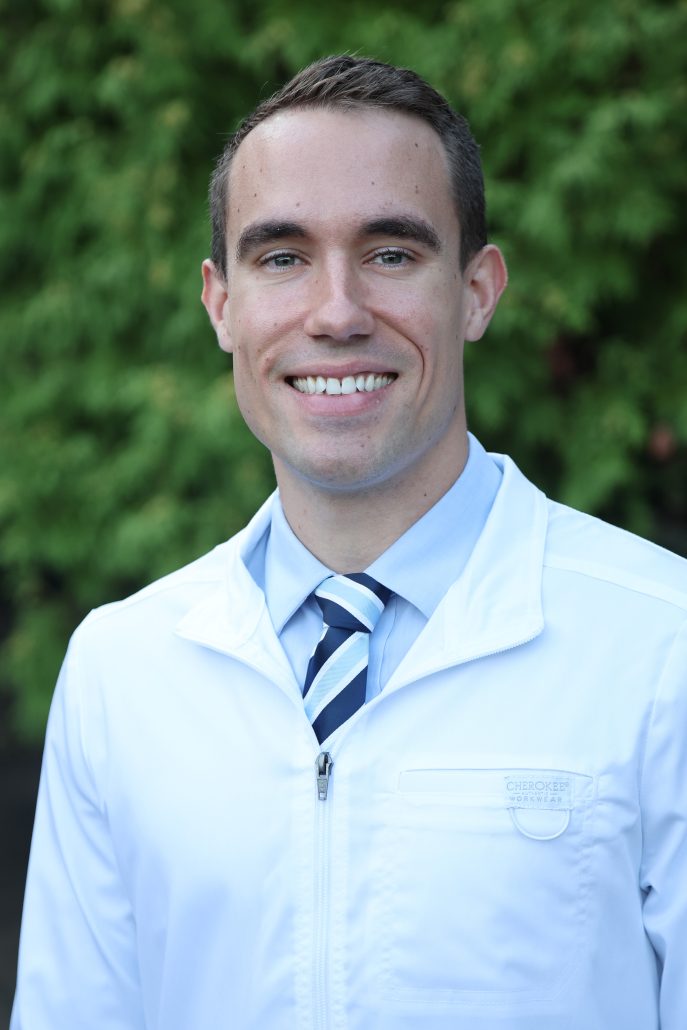 George Schieder IV, DMD
With roots in the dental field from a young age, Dr. George grew up near the Jersey Shore working at his father's dental practice. After graduating as class president from the Rutgers School of Dental Medicine, he moved to Cleveland in 2021 to expand his training in oral and maxillofacial surgery. 
As a member of the Marino Dental on Darrow team, Dr. George focuses exclusively on surgical procedures such as dental implant placement, wisdom tooth extraction, sinus lifts, bone grafting, and more. Dr. George is dedicated to providing a relaxing and low-stress environment for patients undergoing dental surgery. He is known for his warm and compassionate care, taking the time to listen to each patient's concerns and guiding them through their surgical treatment needs. 
Dr. George spends most of his time training at various local hospitals, but when he's free, he can be found in Cleveland drinking lattes, dancing salsa, or playing water polo.